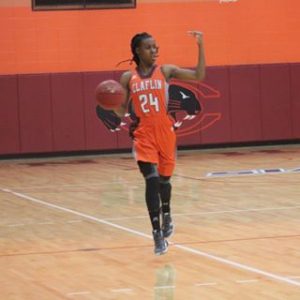 Ashley Fields 5'11" guard/forward.
Career:

2015-2016: Claflin University (NCAA D2)7,1ppg. 4,2 rpg. 2spg.                                2016-2017: Claflin University                                                                                             2017-2018: Claflin University 11,2ppg. 8rpg. 4,1apg. 2spg.                                         2018-2019: Claflin University 16,3ppg.7.9rpg. 2,3apg.3spg.36%3pt
Awards:  8 double-double games 2017-2018. 9 double-double games 2018-2019.1st team All-CIAA Conference 18-19. CIAA Conference Defensive player of the year 18-19. Fourth leading Scorer and Field goal percentage in CIAA Conference 18-19. Female Athlete of the year Claflin University 18-19.
Outlook: Versatile guard-forward, can play position 1-4 but best at 3 position. Has nice middle range shot and attaching the rim. Has good 3 point range. Extremely Athletic player. GREAT defensive player. Great talented player that can have a good future as a pro if given the chance.