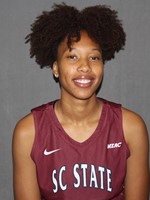 Rhein Beamon 5'9″ guard-forward.
Career;
2015-2016: Georgia South (NCAA): 29 games: 1.4ppg
2016-2017: Georgia South (NCAA): 23 games: 1.0ppg, 1.3rpg
2017-2018: Georgia South (NCAA): 29 games: 6.6ppg, 3.6rpg, 1.8apg, FGP: 29.9%, 3PT: 10.9%, FT: 67.7%
2018-2019: South Carolina State (NCAA, starting five) 32 games. 11,1 ppg. 4,4 rpg. 2,0 apg.
Conference games 16. 12,3 ppg. 4,6 rpg. 2,0 apg. 3 pt 34,9% ft. 64%
Outlook:
Rhein is an extremely athletic, versatile guard. She has the ability to create off the bounce and finish at the rim. Rhein is a very good 3 point shooter. She can also handle the ball extremely well under pressure. Rhein is a true competitor that loves the games. She is constantly working on her game to be great.
Her versatile did allow her coach to let her play as a forward/power forward as well as point guard. Did do a great job in whatever position she needed to play for the team.