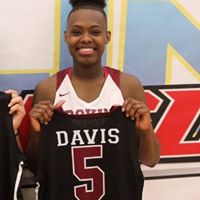 Megan Davis 5'9″ combo guard.
School: Erskine College (Due West, SC)
Position: Point Guard, Shooting Guard
Megan is a lengthy combo guard with the ability to shoot, drive, and finish with both hands. Megan has exceptional ball handling skills and is a willing passer. She is physically strong and is able to finish through contact. Her leadership is by far one of her most pivotal traits. She is a bonafide floor general. She has a high basketball IQ and makes those around her better. She is a great on the ball and off the ball defender. Her major strengths are driving and drawing fouls, as well as, pulling up for mid-range jumpers. Megan is a high energy player and has a very high motor. Megan finished the year ranked first in free throws attempted (188), third in the conference in total points (489), third in points per game (17.5), and fourth in games, games started, and minutes.
Recognition: 1,000 point colligate scorer, All-Conference (2018-2019), two time captain (2017-2019)
Statistics: 17.5 points per game with 4.1 rebounds, 2.3 assists, and 1.5 steals.