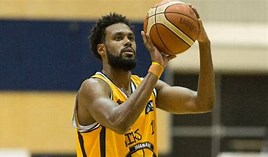 .
Alonzo Burton 6'4″ guard. Nationality. New Zealand.
Outlook: A shooter as the best in the game. Good ball handler. Great attitude, works hard. Good defender with long arms.
2015. IMS Payroll Hawks (NBL New Zealand) 8,1 ppg.2 rpg. fg. 44,7% 3pt.40,6%
2016. IMS Payroll Hawks(starting five) 11,7 ppg.3,7 rpg.1,9 apg.fg.46,8 3pt.31,1%
2017. Taranaka Mountainairs ( starting five) 14,5 ppg. 4,2 rpg. 1,9 apg. 43,2% fg.41,3% 3pt.
2018. Taranaka Mountainairs. NBL.
Awards. Member of New Zealand National Team. New Zealand NBL Regular Season Champion. New Zealand selection team for China tour 2018
Highlights from game 2019. Made 8 3pt from 11 shots