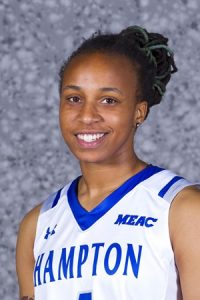 Jephany Brown 6'0″ Forward-Power forward.
Career: 2014-2015: Walters St. CC (JUCO, starting five)
2016-2017: Hampton (NCAA, starting five): 29 games: 6.9ppg, 4.3rpg, 1.5spg, FGP: 39.1%, 3PT: 19.2%, FT: 72.2%
2017-2018: Hampton (NCAA, starting five): 28 games: 10.8ppg, 4.6rpg, 2.1spg, 1.1bpg, FGP: 38.3%, 3PT: 34.6%, FT: 72.0%
Awards: NJCAA D1 District G Champion -15
NJCAA D1 Final Four -15
NJCAA D1 All-Tournament Team -15
MEAC Tournament Winner -17
All-MEAC All-Tournament MVP -17
MEAC All-Tournament Team -17
MEAC Tournament Finalist -18
All-MEAC 3rd Team -18
Outlook: Jephany is great all-around forward-power forward. Has very good middle range game. Shoots well from three pointers, drives strong to the basket. Good inside moves. Will crash the board hard for any rebounds. Very good defender, steals a lot of balls. Gives every team good presence with her all-around game and hard work.
Full game Jephany # 4 UNC-Hampton. 16 points,8rebounds,2 assist,4 steals. 2pt. 6/10 60%