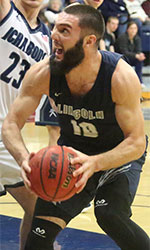 Grant Olsson 6'5″ guard/ swingmen
Career:
2015-2016: E.Wyoming JC (JUCO, starting five): 29 games: 14.7ppg, 4.9rpg, 1.2apg, FGP: 46.0%, 3PT: 44.8%, FT: 67.4%
2016-2017: E.Wyoming JC (JUCO, starting five): 23 games: 17.6ppg, 5.2rpg, 1.1apg, FGP: 49.7%, 3PT: 41.2%, FT: 75.9%
2017-2018: Lincoln, MO (NCAA2): 28 games: 3.1ppg, 1.9rpg
2018-2019: Lincoln, MO (NCAA2, starting five) 11,1 ppg.3,9 rpg.0,7 apg. 2pt.64,5% 3 pt.41,3% Ft. 72,1%                                                                           2019-2020:Moycullan Basketball Club Irish Superleague
Awards:  CoSIDA NCAA Division II Academic All-District 7 Team -19
All-MIAA Honorable Mention -19
MIAA Tournament Semifinals -19
SKILLS & ABILITIES Versatile 6'5 (195cm) mismatch player who takes advantage of both post players and guards. Ambidextrous "back to the basket" post-up game with ability to stretch the floor. (Shot over 40% 3PT in 3 collegiate seasons with over 180 made 3's) Driving threat that loves to get to the rim and work in pick & rolls. Weighing 225lbs (102kg), has superior strength and the ability to defend shooting guard through center positions.
LEADERSHIP: 2X collegiate team captain & MVP
Always the most vocal player on the floor
All-MIAA Honorable Mention
Ultimate Team Player